Rockaway Beach is the best waterfront neighborhood for those who seek stunning skyline views of Seattle.
I sold 4008 in December of 2018 and filmed an episode of HGTV's Beach Hunters in April of 2019 with the new owners.  
THE SETTING AND LIFESTYLE
Rockaway Beach on Bainbridge Island is all about Seattle, weather and boat traffic- you won't need a television.  Watching the sun rising over the city and the Cascades behind it, the in-your-face ferry view, or the volcanoes looming on the horizon. There's a plethora of water traffic to watch for hours on end. You'll sit mesmerized when stormy weather hammers Seattle, or bask in delight when a perfect day is capped off with the sunset reflecting off the windows of the high rises- this strip of shoreline never disappoints.
It's a stretch of beach that enjoys the sun in the morning and can be in the shade by 5 o'clock on a summer day. I know one owner who grew tired of the water traffic years ago, but never grows tired of the twinkling city lights- a different show unfolds every night.
BEACH ACCESS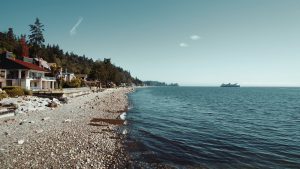 Most lots on Rockaway Beach are 60' side and no or low bank waterfront, though some properties have a 120' wide double lot.
The beach is made up of cobbles large enough that beachcombing with shoes is recommended rather than with sandals.
On the north end, there is public parking with a bench down at the waterline- this park is perfect for viewing Eagle Harbor's boat traffic without binoculars. On the south, at Rockaway Beach Park you can find scuba divers, kayakers, or picnickers who want to watch the sailboats race around Blakely Rock. I know of some triathletes who enter the water here and swim to Blakely Rock on a regular basis.
PRICE TRENDS
In 2021, there were just 2 sales on Rockaway Beach, for an average sale price of $2,369,000. Other averages: price per square foot, $1,172; sale to list price ratio, 122%; days on market, 4; square footage, 2,020; and bed/bath, 2.5/2.
WATERFRONT PROPERTY FOR SALE on rockaway beach drive on bainbridge island, wa
Search listings in Rockaway Beach and please do contact me with specific questions about any property - I will reply with answers as soon as I am able, usually before the end of the day.

Sorry we are experiencing system issues. Please try again.

recent waterfront property sales on this bainbridge island, wa shoreline

Sorry we are experiencing system issues. Please try again.

MORE WATERFRONT NEIGHBORHOODS
Visit the overview page to explore the 10 neighborhoods of waterfront property on Bainbridge Island, WA or just use this Google My Map or the menu to navigate around the other sections of shoreline.
I have also assembled a Google My Map for you to explore the quiet streets of these neighborhoods and utilize the several dozen public beach access points on the island.
And if you have questions about how these properties may suit your lifestyle, please just ask me (but first, learn about my expertise in the waterfront homes niche of the Bainbridge Island real estate market).