This is the sunniest part of the island and subsequently one of the most desirable neighborhoods.
THE SETTING AND LIFESTYLE
If you are seeking to bask in the glorious sunshine, Bainbridge Island's "Gold Coast" is an enchanting place to be. This stretch of shoreline bends along Rich Passage and exposes homes to the sun from a range of southeasterly to southwesterly property perspectives. Combined with the light-gathering effect that some nautical miles of Puget Sound water in front of these homes achieves, and the result is an uncharacteristic amount of light and sun. So much, in fact, that residents of other island neighborhoods feel quite envious when visiting here, especially during the gloomy winter months. I know one person who moved to a waterfront home on this part of the island because she needed the feeling of eastern Montana's vast open plains.
When the blue sky is out (more often than you may think), residents of South Beach Drive enjoy breathtaking views of the Space Needle and Seattle's skyline, glacier-mantled 14,411-foot Mt. Rainier and other Cascade peaks, and Blake Island State Park. Homeowners along Pleasant Beach Drive can revel in the beauty of the Olympic Mountains and gaze at a countless number of boat types passing by in tight Rich Passage. Heading west on Point White Drive from Lynwood Center gives direct southern exposure and maybe a view of "the mountain" (Mount Rainier) or perhaps an up close and personal look at a thousand foot long United States Navy aircraft carrier or a Washington State Ferry passing by. And as the western section of shoreline bends north and becomes Crystal Springs, the view is all about the big stretch of water and late day sun – till well after 9 o'clock on summer evenings.
South End residents also enjoy proximity to the historic 137-acre Fort Ward Park with hiking trails, picnic areas, 4000-plus feet of public tideland and landmark battlements inviting exploration. Also nearby: the landmark Lynwood Center is as laid-back as it gets for the island's "urban centers" and is emerging as a chic neighborhood with recent growth in restaurants, retail businesses, high-density modern housing options and it can boast a new community pool. Of course, one can't visit the island too long without seeing an independent or foreign film at the 1930's-era art house theater.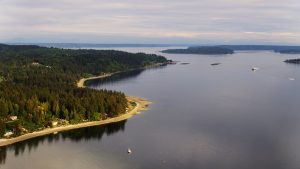 BEACH ACCESS
In addition to easy-access, low-bank shoreline that is perfect for beachcombing or water sports, the deep and fast-moving waters of Rich Passage attract an abundance of sea and birdlife, including orca and humpback whales, seals and sea lions, bald eagles, cormorants and Great Blue Heron. Spend enough time wandering the beach or floating with the tides, and you're bound to come across some animals that help you realize just how living on Bainbridge Island is an experience in living in nature.
PRICE TRENDS
In 2021, there were 11 sales on the South End, for an average sale price of $2,818,636. Other averages: price per square foot, $1,000; sale to list price ratio, 114%; days on market, 12.4; square footage, 2,922; and bed/bath, 3/2.8.
Bainbridge island waterfront homes FOR SALE on the south end of the island
Search listings on the south end of the island and please do contact me with specific questions about any property - I will reply with answers as soon as I am able, usually before the end of the day.

Sorry we are experiencing system issues. Please try again.

recent waterfront property sales on this bainbridge island shoreline

Sorry we are experiencing system issues. Please try again.

MORE WATERFRONT NEIGHBORHOODS
Visit the overview page to explore the 10 neighborhoods of waterfront homes on Bainbridge Island or just use this Google My Map or the menu to navigate around the other sections of shoreline. 
I have also assembled a Google My Map for you to explore the quiet streets of these neighborhoods and utilize the several dozen public beach access points on the island.
And if you have questions about how these properties may suit your lifestyle, please just ask me (but first, learn about my expertise in the waterfront homes niche of the Bainbridge Island real estate market).