As with all luxury homes, there is a relationship between the dramatic waterfront experience and home value. And since due diligence with waterfront property in Bainbridge Island is a greater than normal experience, there are a lot of variables that affect value and need to be considered when determining purchase price in an offer.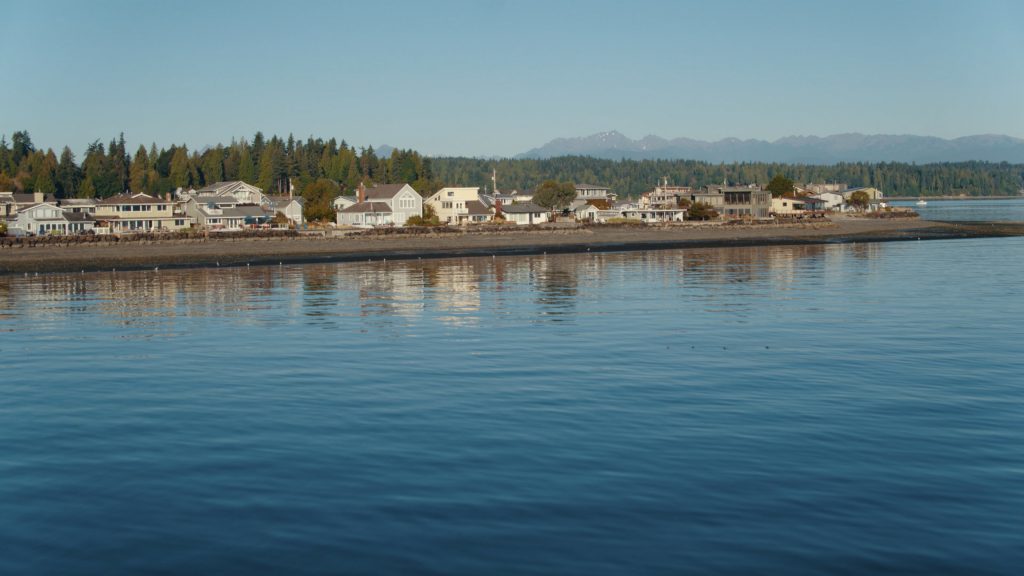 There is a myriad of variables that affect price- both tangible, such as the quality of the build, size of lot & home and amount of water frontage, as well as intangible, such as how dramatic the view and scenery are, how private it lives, what type of beach access (if any), how useful the beach is, the approach up the driveway, etcetera, etcetera. Putting a value on properties as unique as the waterfront homes on Bainbridge Island can easily be more art than science.
When a property is presented majestically and just speaks to the masses, the bidding begins. It's not uncommon for a home to sell for 2-7% over asking price in the first week on the market. We've seen a home on Pleasant Beach listed for $2,098,000 and sell for $2,508,000- that's $410,000, or 19.4%, over asking price. Another, in Eagle Harbor, sold for $2,000,000, which was $350,000 (21.21%) over asking price.
But sometimes, as gorgeous as a home's view may be, its value can be negatively influenced if one has to walk 100' downhill from the carport to the home with groceries, in the rain, because that was the only option the property allowed. That was the case with this recent sale on the south end that needed two years and several significant price reductions to eventually sell for $1,315,000, a shocking $383,000 under original asking price.
There are certain thresholds in price that may serve as rough guidelines more than hard stops. One example is all homes with 200' waterfront footage or more all selling for over $2,000,000 when a fantastic Port Madison home was strategically listed at $1,995,000, just to be rejected by the market and finally selling for $1,825,000 after four months on the market. It lies at the end of a neighborhood that has a strong history of seeing home values suffer on the open market because of the difficulty leaving the neighborhood during busy traffic hours.
As cliché as it is, there are a lot of variables to consider in a property's location, and there's an art to knowing what they are.
Purchase Price
To put a value on a home, I use several methods to come to a price. Helping my clients understand value is where my tagline truly comes into play:
Turning the art of real estate into a science
Art
The fact is, these homes are about their lifestyle and drama. If you read what I've published on that page of this website, you can see how many variables there are to home values here and how tough it is to pin a number down based on a few metrics.
Given that what I'm selling in waterfront homes on Bainbridge Island is indeed a lifestyle, it's sometimes best to ignore the home's square footage and lot size and instead, focus on the drama. I'll line up the comparable sales from least dramatic to most, and stick subject property in a position of "greater than these, but less than those." This approach may sound a bit unusual, but it's where the emotion of the experience afforded by the home becomes the metric.
Science
Price per square foot is indeed more art than science for Bainbridge waterfront home prices. Properties here are so unique that this measure varies widely ($196 to $1,026 for waterfront sales in 2017) and needs to be looked at loosely. One of the best veteran agents on the island was an appraiser for over a decade and will be the first to tell you that this metric is not the holy grail of measures for properties here.
That said, I still feel obligated to use this metric when I analyze market data, so I scatter it against the size of the comparable sales on a plot. When there is a trend to the data, I set a trendline and then see what the homes above and below the line all have in common and then place subject property appropriately. At that point, I then use my philosophy on pricing psychology to round to reasonable numbers.
Prices can also be compared to a price-per-frontage-foot. In looking at recent sales price compared to feet of waterfront footage, two homes with 100' sold for $1.34M and $2.15M, and two homes of 185' sold for $900K and $2.5M. Again, this metric varies widely but is fun for us to calculate and use as a guide in comparing a home on the market to its comparable sales.
What I find fascinating is to consider a home's Zestimate. More specifically, I analyze the
Zestimate of each comparable sale on the day these homes sold, compared to their actual sold price. I have a tool that provides this for me, along with the percent error to measure Zillow's level of inaccuracy on the day of closing. While not an exact science, there is usually a trend to uncover in the data that gives me another line of thinking to discuss with clients.
Luxury home prices here are the definition of market value - an agreement between what buyer is willing to pay and what seller is willing to accept. I go to great lengths to educate my clients about the market conditions, both with science and art, as I make my recommendation about value.
Assessed Value & Property Taxes
Kitsap County groups and analyzes sales on the open market in specific neighborhoods to determine assessed values. They also do random site inspections of residential properties every five years. This means that its last sale price may not influence its property taxes. While the goal of the Assessor is to have each home's assessed value be equal to 100% of market value, this figure almost always falls short. In reality, assessed value tends to be about 80% of market value, but just like price per square foot, this metric needs to be taken with a grain of salt.
According to the Kitsap County Assessor, Bainbridge Island has $6.9 Billion in property value in 2017. Property taxes are calculated from assessed value, not market value, at a rate of 1.08%Of the residential sales in 2017, property taxes were an average of 0.72% of Purchase Price, but this value ranged from 0.03% to 1.46% of Purchase Price. Some of these incredibly low numbers are likely low-income senior exemptions.
One misconception is that the tax rate is higher for waterfront homes - it is not. That said, given higher values of waterfront properties, the taxes are indeed higher than a more typical home found inland, but they are taxed at the same rate.
It's worth noting that some estate properties are composed of several tax parcels. In Kitsap County, owners can change the tax status of their raw parcels from Residential to Forestry, Conservation, etc. These designations reduce the owner's tax liability significantly, with the difference in back taxes only payable upon a change in status back to Residential for development purposes.
Income Generation
Waterfront homes on Bainbridge Island make perfect vacation rentals, and there are a couple of local businesses that can manage the property for you. One recent sale had a pro forma in the listing that showed $95,000 in annual gross income from its use as a VRBO. A few estates are known to fetch over $10,000 per month during the three or four prime summer months. Even the smallest of waterfront homes can be leased annually at $3,500/month at least. A few owners are known to use the home for three months in the summer and rent it to a teacher for the other nine months.
Financing
Generally speaking, financing a waterfront property is no different than a traditional home - many banks are willing to lend on these valuable properties.
Given the luxury price points, buyers usually obtain jumbo mortgages that require at least 20% down payment, healthy income, and strong credit. If the property is located within a floodplain as determined by FEMA maps, the homeowner will be required to purchase flood insurance.
Low inventory levels in today's market are causing occasional problems with appraisals. Due to the vast price range of waterfront homes on Bainbridge Island, appraisers may have trouble finding an adequate number of comparable sales at the same price point as the agreed upon sales price. Luckily, jumbo lenders retain the loan (unlike a conventional loan that is sold off) and have more underwriting flexibility in dealing with appraisal problems, so these transactions are usually close despite an appraised value coming in less than ideal.
Insurance
No-bank and low-bank properties may have concerns about flooding when high tide comes with intense windy storms. Point Monroe, aka "The Spit," gets water over much of the road with high tide and high winds during winter storms. Measures such as bulkheads, site drainage, and sump pumps mitigate these concerns.
It's undoubtedly advisable that homebuyers get a quote for flood insurance from their agent to see what the premium will be when considering a home. Sometimes, an insurer and/or lender will require a land surveyor to prepare a "flood certificate" to locate the home to the shoreline to ensure it has a safe buffer.
Property Lines
One of the most critical aspects of waterfront property on Bainbridge Island is how far into the beach the ownership extends. Unfortunately, that answer is nearly impossible to answer because property corners cannot be staked out in tidelands since the tidal action is continuously moving the beach material.
What is also unique is how the lines were set in the original surveying. While shorelines are not straight lines, the surveyor set straight lines arbitrarily down the shoreline, with homeowner's properties on one side of this meander line and Washington State owning everything seaward. This line is referenced in a property's Legal Description but concerns over the exact location of this line are difficult to pursue because, since it is not insurable on a title, a land surveyor or civil engineer will likely refuse to locate it with precision.
It's also important to know that the Washington State Department of Ecology's Public Trust Doctrine states "that the waters of the state are a public resource owned by and available to all citizens equally for the purposes of navigation, conducting commerce, fishing, recreation and similar uses and that this trust is not invalidated by private ownership of the underlying land. The doctrine limits the public and private use of tidelands and other shorelands to protect the public's right to use the waters of the state. The Public Trust Doctrine does not allow the public to trespass over privately owned uplands to access the tidelands. It does, however, protect public use of navigable water bodies below the ordinary high-water mark."
In other words, it is legal under state law for people to walk on your privately-owned beach below the ordinary high water mark (which is calculated based on rolling averages and may be located by a surveyor). Also, the government has the authority to protect the public interest by regulating zoning of shorelands, tidelands, and wetlands.
Due Diligence
Disclaimer:
I am not a trained and licensed geotechnical engineer with authority to assess the slope stability and subsequent safety of waterfront homes on Bainbridge Island with technical expertise.
I do, however, have a Bachelor's Degree in Geology and know the island's formation history well from my time as a middle school earth science teacher (click here to view the "field mapping trip" I created for 7th Grade students at Woodward Middle School). Spoiler Alert: it's a combination of deposits from the last ice age (20,000 years ago) and of volcanic eruptions from an ancient Cascade mountain range (~30 Million Years Ago).
As a Realtor, I have spent a great deal of energy learning from the local geotechnical engineers, land use attorneys and architects. Now, as an "armchair geologist," I have a keen understanding with which to view waterfront property on Bainbridge Island and subsequently share my observations with my clients. Ultimately, when buying waterfront property, I will recommend you have a professional conduct a field investigation as due diligence and deliver to you, a geotechnical report. If you view waterfront properties with me, then you will order this service with insight as to what the professionals will be examining.
All that said, it starts with the maps when looking at property.
Maps
Google Earth and satellite images are fantastic places to get to know the outline of the shoreline. Not only is it okay to use the bird's eye view to notice the general shape of the shoreline as it transitions between land and water, but it's a good idea to use Google Earth to see what the bluff is like if there is one.
Additionally, one can investigate the home's setting by looking at data provided by public entities, such as LiDAR, City of Bainbridge Island GIS, and Kitsap County CAD.
Field Investigation
Now the fun part – viewing the property!
After walking through the home and taking in the dramatic feeling and life experience it delivers, it's time to do a field investigation. Each stretch of shoreline is so unique that the specific location can be more important to some people than the house itself. For this reason, I have separated the island into 10 unique neighborhoods to help you learn which one is right for you.
When walking a property, these are the questions running through my head:
What trees and vegetation are present around the property and near the shoreline, and what role might they be playing in the overall setting?
Are there catch basins and site drainage for stormwater, and is the design logical and is it working properly?
Are there plants that prefer wetland environments and what does that tell me about drainage?
What outline does the top of the bank have at the edge of the yard, and what evidence may there be of recent movement?
Is there beach access, and what is its history?
Is there a bulkhead or other human-made armoring, and what is its condition?
What is the orientation of mother nature's weather patterns?
How high do winter's extreme high tide's waves hit the shoreline?
What happens when wave action impacts the shoreline?
What type of material is the beach? (bedrock vs. sand vs. mud vs. cobblestones)
If the beach is sandy, where is the source of the material and what recent erosional evidence can you see?
It's no secret that the most dramatic views come from looking over the edge of a high perch. Views from waterfront homes on Bainbridge come from a great perspective in the home site, plain and simple. Not surprisingly, what scares people the most is when the home is too close to the bank. I had this listing with one of the most dramatic views in Eagle Harbor, looking straight down on the marinas and ferry yard and also over to the Space Needle & Seattle skyline, but had trouble finding a buyer who was willing to accept the risk of sleeping so close to the edge. Homes in this position take a beating on the Purchase Price, as the buying pool is so thin.
Geotechnical Conditions
Due to the natural hazards that come with buying mid and high bank waterfront homes on Bainbridge Island, I highly recommend a buyer of a waterfront property receive a recent geotechnical report (slope study analysis) when purchasing a home on Bainbridge Island, whether provided by the seller or retained during a buyer's inspection period.
A local geotechnical engineer says people are always asking him if he would buy the property since it's his job to identify the hazards. For reasons of liability, neither he nor I will answer that question.
The first observation is the ratio between how far back the home is from the top of the bank and how tall the bluff is. Ideally, that ratio is no more than 1:1, as the Dept. of Transportation does on highway embankments.
Let's look at two extreme examples - compare Rockaway Beach to Agate Point. The water frontage of the homes on Rockaway are all just short segments in a long straight line – that shoreline is a low bank and well armored with bulkheads, making the risk for landslides all but negated with exception to the bluff across the street.
Agate Point, on the other hand, shows a high bank shoreline with more extended frontages that undulates in and out from the homes – making it easy to see where landslides have occurred in the past and consider how prone a home may be to one in the future. Some of these homes are closer to the edge of the bluff than the bluff is tall, which makes a lot of people nervous and can have a negative impact on resale value.
Property Rights
After slope stability, the big question people want to know is what can be done with a waterfront property regarding simple things such as docks, buoys, bulkheads, and stairs, or complicated tasks such as building or modifying a home. The decision of what you can do with your property, within a setback distance from the shoreline, will depend on how well the "valuable ecological function" of the shoreline can be maintained and whether your project would have a negative impact on that measure.
What you can and cannot do is dictated by the Shoreline Master Program (SMP) rules. Depending on the location of the property on the island and what improvements the property may already have (new vs. replacement vs. emergency fix), the answer may be black/white for a yes/no response. But, there is a good chance of a gray area, and I need to refer out to an expert who knows the codes and the process well.
Questions have to go to several levels of government. There's the City of Bainbridge Island (COBI, pronounced koe-bee), who is the lead agent on the permitting process according to the SMP. Subsequently, several fisheries departments (tribe, state, federal) may have a say in your matter and, if the property line on the frontage side is out past the OHWM (Ordinary High Watermark), then the feds at the Army Corps of Engineers will too have their say.
When a client of mine wants to fully understand what they can and can't do with the property under local shoreline jurisdictions, I recommend having a feasibility study performed and have a few fantastic referrals to provide.
What any of these professionals will do is look at what shoreline designation the property has, (image) and locate buffer zones from the shoreline and any critical areas such as wetlands or steep slope. The first formal step of working with COBI is to schedule a "pre-application hearing" to speak with a Senior Planner and hopefully move towards filing for a permit. The real challenge in answering the questions is that some rules fall into a gray area. This is where having the expertise on your side is valuable.
At the end of the day, buyers of waterfront homes on Bainbridge Island need to know that COBI holds the keys to owners wanting to make improvements to a property and should go into a purchase with their eyes wide open.