Living on Bainbridge Island
What is Living on Bainbridge Island Like?
Puget Sound is effectively an ocean between two mountain ranges. It's about 175 miles from the Canadian border on the north end to Olympia in the "South Sound," and the Olympic Mountains lie to the west and the Cascade Mountains lie to the east. Living on Bainbridge Island means living straight across the water from Seattle, just a short 35-minute ferry ride away.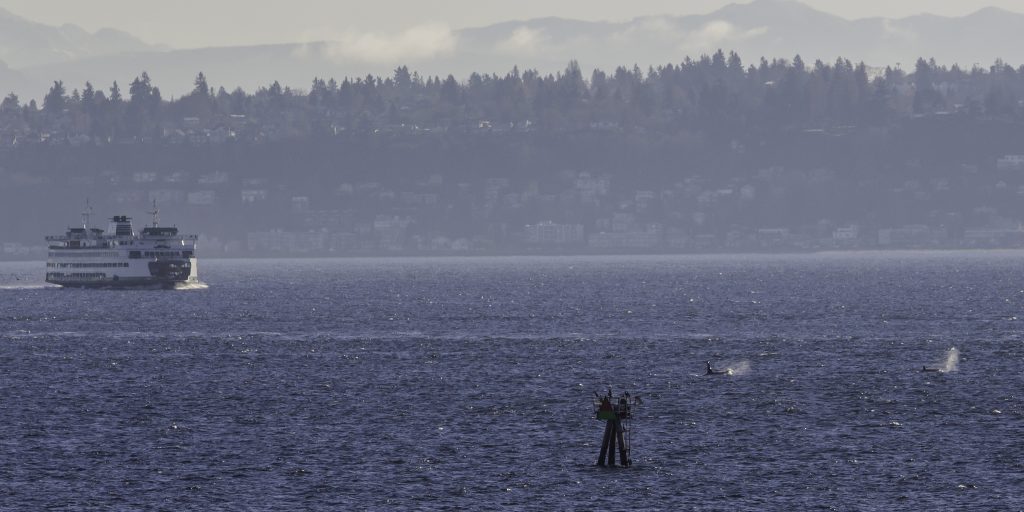 Vogue Magazine named Bainbridge Island the Nantucket of the Pacific Northwest. Money Magazine ranked "the rock" #2 in its 2005 Best Places to Live list of 10 Great American Towns. Forbes named Seattle the third best scenic place to retire in 2017. NerdWallet placed The Island in the Top 5 Best Towns to Raise Kids in Washington. The public schools are so good that they now spend energy on the healthy well-being of kids and staff and just created the BISD Strong Award. And the list goes on.
Bainbridge Island is about the size of Manhattan Island- taking up 17,778 acres- while holding just a fraction of the number of residents with its approximately 23,000. The island is 10 miles from the northern to southern tips and 4 miles from east to west, as the crow flies.
The island has 53 miles of shoreline covering 10 'shoreline neighborhoods,' and there are 1,805 waterfront properties. Anyone can access the waterfront at any of the 74 public road ends (map) or enjoy the several dozen public parks covering hundreds of acres and encompassing dozens of miles of trails.
Bainbridge has access to every modern-day necessity expected in suburbia but also holds amenities you usually have to drive to the boonies to enjoy, such as a winery's vineyard, publicly owned farmland, or a nationally recognized Japanese Garden.
The island is as close to modern-day Mayberry as you will find, yet the "town" of Winslow sits just 8 miles from downtown Seattle. It is accessible via Washington State Ferries on a schedule as regular as a city bus for a 35-minute crossing serving both pedestrians and vehicles of all sizes. Though the hustle and bustle in concentrated in Winslow, Rolling Bay and Lynwood Center also provide centers of economic activity, as do several large business parks around the island.
Anyone who has been here awhile will confirm it's like living in a fishbowl. As an active community volunteer and former (and long-time) middle school science teacher, I can't go anywhere in town without seeing people I know every few minutes. It is the complete opposite of the anonymity you get in a large city, but it's one of the ways Mayberry Bainbridge is still so quaint. We live here because the surroundings and the community are amazing.
As far as born and raised islanders AJ Peters and Zach Brewer are concerned, there are several dozen distinctive areas to the island, as determined in their research for their community map. Their "boundaries are drawn from a collection of candid interviews of neighbors, opinions from [their] friends' mothers, decisive roads, older maps [they] were able to get [their] hands on, and when all else failed, what just felt right."
Winslow Way is the heart and soul of Winslow, the largest town on the island, just a short walk from the ferry terminal. Winslow boasts a variety of restaurants and one-of-a-kind shops as well as a popular waterfront park. There is never a shortage of events happening "in town"- this list from the Bainbridge Downtown Association is a small sampling.
Lynwood Center is located on the south end of the island at the intersection of Point White Drive NE and Pleasant Beach Drive NE. The historic Lynwood Theater celebrated its 75th birthday in 2011, and the surrounding village has grown since, with the addition of the Pleasant Beach complex featuring new restaurants, shops, and a boutique inn. Two modern condominium developments are rounding out the recent growth of this neighborhood.
Rolling Bay is an iconic place, and its heart and soul is Bay Hay and Feed- an old-fashioned store on Bainbridge Island. Described by its owners as a beehive - busy from dawn till dusk - it was established to create a New England-style general store that sold all the supplies needed for a farm or a homestead. While this neighborhood already had a strong community spirit, this store has become a destination for local pedestrians and world-travelers alike as it's a great "place to meet, greet, get coffee or a bite to eat." Over 30 years of growth have given way to being the place on the island to buy clothing, shoes and boots, pet supplies, cards and gifts, toys, something from the nursery or local organic produce, bread, eggs, milk and meat from the market. And your visit would not be complete without a new T-shirt or sweatshirt.
Bainbridge is the gateway to Kitsap County (and the Olympic Peninsula after that) and is accessible to the Kitsap Peninsula by the Agate Passage Bridge on the northwest part of the island. This bridge was built in 1950 and now carries the number of vehicles daily that it was designed to carry annually- about 20,000. There is no excuse to have not hiked in the Olympic National Park when you live on the island - the closest trailhead is about an hour from the Agate Passage Bridge.
Bainbridge has about 8,600 residential properties (single family homes and condos) for approximately 10,000 households. Click here to view my infographic, the Bainbridge Market Report, to gain insight into 2017's market statistics and trends. And click here and also here to find a great deal of demographic data and the island's 24,000+ residents.
Getting Around
Sometimes it can take what feels like forever to get from one end of the island to the other. My family lives in Agate Loop on the very "north end", and visiting our friends in Fort Ward or a trip to one of our favorite eateries (Treehouse Cafe in Lynwood Center) can take 20 minutes or worse if there is traffic. This may not sound like much, but that just shows how 'small town' it feels here and how the expectations are set accordingly.
The good news is Winslow sits near the middle of the island and never seems to be more than 15 minutes from anywhere on the island. For you and your home, that means you're never far from town.
Getting To The City
Thousands of island residents commute to Seattle every day to work on the Washington State Ferries. Some use the Kitsap Transit bus system to get from their home on Bainbridge Island to the Winslow ferry station. Others ride a bike or pay to park a car at the lot next to the terminal. Many drive their vehicle on the boat. Pedestrians "walking on," cyclists and motorcycles always make the next ferry, while cars may have to wait until the next sailing if the ferry fills up. Some commuters leave their bike at a bike locker next to the terminal, while hundreds of cyclists ride onto the busy Seattle streets to work every day. Some passengers use King County Metro to commute on the other side. Others actually keep a car in a downtown Seattle garage for daily use to avoid driving onto the ferry. While the morning "commuter runs" tend to be quiet as people are focused on getting their work days started, the evening runs are a lively environment, especially in the galley where beer and wine are served.
Keeping Busy
Parks & Trails
Bainbridge Island boasts more than 32 miles of hiking and biking trails through every type of island terrain, from lush forests to rolling meadows and secluded beaches, with several dozen public beach access points for you to connect with the waters of Puget Sound.
Thanks to the dedication and hard work of the Bainbridge Metro Park and Recreation District, Bainbridge Island Land Trust, and countless, nature-loving citizens, Bainbridge Island is blessed with an extraordinary abundance of parks featuring more than 1600 total acres of parkland and 32 miles of hiking and biking trails.
Got a hobby or favorite pastime? There's very likely a group or club on the island to match. The extremely popular Bainbridge Metro Park District offers a robust, year-round assortment of programs and classes for everything from beginning kayaking to pottery making to archery.
BARN (Bainbridge Artisan Resource Network) is a new community center dedicated to craft and invention. From the BARN website: "BARN's mission is to build and support an open, intergenerational community of artisans and makers who are dedicated to learning, teaching, sharing, and inspiring each other with creativity, craftsmanship and community service."
Local Destinations
Bainbridge Island is blessed with three National Parks within a 100-mile radius. North Cascades National Park, Rainier National Park, and Olympic National Park offer millions of acres of pristine wilderness access, scenic drives, and historic lodges.
Full or Part Time Employment Opportunities
If you are interested in finding full or part-time work, Bainbridge Island, nearby Kitsap County, and, of course, Seattle, offer myriad opportunities in every imaginable field and discipline. It's the perfect place for someone who works from home, as many residents have made that a lifestyle here. The Seattle job market is currently among the hottest in the country.
Faith communities on Bainbridge Island
Bainbridge Island is home to more than a dozen houses of worship and faith communities.
Living in SUNSET Magazine
To give you a taste of the amenities Bainbridge Island residents take for granted, here's a list of the highlights.
Small Town Groceries
Popular and busy Town & Country Market opened in 1957 and has been an island fixture ever since. Extensively upgraded and remodeled in 2013, the new, expanded facility—awarded a LEED® Gold Award from the US Green Building Council—offers a fully stocked grocery, specialty wine & spirits selection, popular deli and bustling coffee bar. This iconic store effortlessly maintains its small town friendliness and charm.
The beloved Bainbridge Island Farmer's Market—operating from 9-1 on Saturdays, April 1 to December 16, takes place at City Hall Park and boasts more than 40 vendors offering fresh, local produce, flowers and plants, specialty foods, beautiful crafts and much, much more. Shop, eat, listen to great music, and enjoy one of Bainbridge Island's most cherished traditions.
Bainbridge Island Farmers Market—operating from 9-1 on Saturdays, April 1 to December 16, takes place at City Hall Park and boasts more than 40 vendors offering fresh, local produce, flowers and plants, specialty foods, beautiful crafts and much, much more. Shop, eat, listen to great music, and enjoy one of Bainbridge Island's most cherished traditions.
Offering local, farm raised products, ready to eat food, treats and handmade artisan crafts. April 1 through December 16 in Town Square next to City Hall.
Coffee Shops:
Islanders enjoy a wide variety of cool, eclectic, and in some cases historic coffee houses offering all manner of caffeinated beverage and other treats. Explore and find your favorites.
Restaurants
Bainbridge Island is home to a plethora of fabulous eateries of every description. The majority are located in Winslow but culinary gems can be found throughout the island. Here is a very incomplete list.
Harbour Public House – situated in a historic building on Eagle Harbor, "the Pub" as it is fondly known, features locally sourced bar food and an excellent (huge) selection of beer.
SuBI Japanese Restaurant – this upscale sushi establishment earns raves for its inventive rolls, Japanese cuisine and chic atmosphere.
Thuy's Pho – Authentic Vietnamese- bring cash.
Via Rosa 11 Italian Kitchen – located in Rolling Bay on the eastern side of the island, Via Rosa is an island favorite, offering wood-fired pizza, homemade pasta dishes and specialty food items.
Streamliner Diner - A longtime local favorite for breakfast, lunch and dinner.
Bruciato –A Neapolitan pizzeria and bar in the Old Hardware Store
Café Nola - Diverse New American dishes offered in a cozy bistro with seasonal outdoor seating.
Beach House Bar – featuring craft cocktails served alongside Chef Joe Benish's seasonally driven, globally inspired cuisine.
Treehouse Café - a family friendly pizza pub with live music, pool table and darts
Sawan - a family run establishment serving a range of Thai
Sawatdy Thai Cuisine —A popular, casual island institution serving a range of Thai fare from curries to island specials
4/5-Star Restaurants
Foodies from Seattle make their way over to the island for these establishments:
Marche – Pacific Northwest and French style fare made with locally sourced meat, fish and produce.
Hitchcock – Hitchcock is an authentic farm-to-table dining experience, and James Beard-nominated Chef Brendan McGill offers a chef's tasting menu.
Wineries
Bainbridge Vineyards - Located on seven acres of historic Bainbridge Island farmland, Bainbridge Vineyards tends to rare and elegant varietals that thrive in the Puget Sound. With a limited annual production of approximately 1200 cases, Bainbridge Vineyard wine is made exclusively from its own island-grown grapes and fruit.
Eleven Winery – part of a small community of winemakers making waves across the state, with a tasting room near the ferry terminal and winery tours featuring live music on weekends.
Rolling Bay Winery - a small artisan winery specializing in creating limited quantities of hand crafted premium wine.
Brewery
Bainbridge Brewing – an independent craft brewery located in the heart of the island.
Distillery
Bainbridge Organic Distillers – Distilling pure, organic Washington grain into the state's first USDA Certified organic vodka, gin and whiskey.
Drug Stores
Specialty Stores
Wildernest - Catering to outdoor lovers with a wide selection of camping gear, recreational equipment, rentals and outdoor clothing and outerwear.
BonBons - Home of Bainbridge Island fudge and a variety of other sweet treats
Eagle Harbor Books - Longtime island favorite Eagle Harbor Books is home to a large community of authors and discriminating readers. A full service, locally-owned, proudly independent bookstore in the heart of town.
The Traveler - The travel resource destination for Bainbridge Island and beyond, with books, maps, luggage, travel accessories and clothing.
Classic Cycle - Offering a wide selection of bikes and accessories for riders of all ages, and a knowledgeable, helpful staff.
Ryderville Ink: Bainbridge actually has a tattoo shop.
Hardware Stores:
Bainbridge Island Ace Hardware
Garden & Feed Stores:
Bay Hay and Feed: An old fashioned farm store, with a nursery and garden shop, pet supplies, clothing, a gift department and a farm stand with locally grown eggs and produce.
Bainbridge Gardens: One of the leading nurseries serving Seattle and Kitsap County, Bainbridge Gardens offer fertilizers, pesticides and other organic and non-organic garden supplies, top-notch nursery stock for landscaping a home, as well as gifts, a cafe, and more.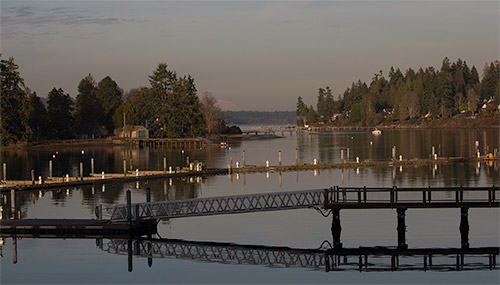 Marinas
North Harbor (Winslow)
Winslow Wharf Marina
Harbour Marina
South Harbor (Eagledale)
Eagle Harbor Marina
Eagledale Moorings
Bainbridge Island Marina
Public Docks
Harbour Marina
Hidden Cove
Point White
Yacht Clubs
Port Madison Yacht Club
Seattle Yacht Club, Port Madison Outstation
Boat Launches
PARKS
Bainbridge Island Parks:
With more than 32 miles of trails and 1600 acres of parkland there's plenty to explore and enjoy.
There are 74 City of Bainbridge Island public road ends on the island.
Bloedel Reserve
The 150-acre Bloedel Reserve is an internationally renowned public garden and forest preserve. The founders' vision was "to provide refreshment and tranquility in the presence of natural beauty." The gardens continue to enrich people's lives through a premier public garden of natural and designed Pacific Northwest landscapes.
Bainbridge Aquatic Center:
Part of the Bainbridge Island Park and Recreation system, the Bainbridge Aquatic Center includes two multi-use pools in one large, heated, indoor facility. The six-lane 25-yard Ray Williamson Pool is the home of the Bainbridge Island High School Swimming, Diving, Water Polo teams, Bainbridge Island Swim Club (BISC), and Bainbridge Aquatic Masters team (BAM). The 360,000 gallon Don Nakata Pool includes a 180 foot water slide, lazy river, sloped beach entry, tot pool, toddler frog slide, one and three meter diving board, and four 25-yard lap lanes. The facility also houses a spa, steam, and sauna rooms.
RENTALS
Kayak Rental, Scuba diving
Exotic Aquatics in Winslow has been serving Puget Sound kayakers and scuba divers for more than 25 years. Offering rentals and lessons as well as guided tours and trips.
PacWesty
Offering Volkswagen Vanagons outfitted with everything you need to explore the Olympic Peninsula and beyond. The Olympic Peninsula is begging to be explored.
Bainbridge Island Rowing
Serving all members of the Bainbridge Island and greater West Sound community, from youth to adult, Bainbridge Island Rowing is a member of USRowing, Northwest Region and takes part in rowing competitions and activities locally, regionally, and nationally. BIR is a community-based, non-profit organization.
Bainbridge Island Art Museum
Located a short walk from the Seattle/Bainbridge Island ferry terminal, the Bainbridge Island Museum of Art (BIMA) is home to a growing permanent art collection with a focus on artists and collections from the Puget Sound region.
THE ARTS
Bainbridge Performing Arts
Bainbridge Performing Arts is community theater in the very best sense of the phrase—serving as the artistic nexus of the island offering a growing/gathering space for the creative collaborations of actors, musicians, singers, writers, poets, dancers, and designers from Bainbridge Island and beyond.
BARN
With a 25,000 square foot ADA accessible campus, the newly opened BARN (Bainbridge Artisan Resource Network) seeks to build and support an open, intergenerational community of artisans and makers who are dedicated to learning, teaching, sharing, and inspiring each other with creativity, craftsmanship and community service. Offering classes and instruction in fiber arts, woodworking, glass arts, printmaking, kitchen arts, writing, woodworking and small boat building.
Fitness
There are a number of excellent gyms, yoga studios, martial arts studios and the like on Bainbridge Island, including:
Island Fitness
Bainbridge Athletic Club
CrossFit Outcome
Island Rock Gym:
Family Martial Arts
Bainbridge Yoga House
Dayaalu Center
Medical Care
Winslow is full of high quality medical care for primary, dental, vision and holistic care. Specialists from the large networks have specific days they visit the island at facilities in Winslow such as Virginia Mason Bainbridge and Swedish Primary Care. Extended and long-term care options also exist for seniors who are no longer able to live at home. Urgent care is offered on the island through Harrison/CHI Franciscan Health and they have an affiliated ER located in Silverdale, WA. A cancer treatment center is located just off the island in Poulsbo, WA. Seattle has some of the best medical care in the world and is just a 35-minute ferry ride away. There are several helicopter landing sites around the island to transport someone to a Seattle facility in minutes during an emergency. This is a very abbreviated list of available medical care and does not include the dozens of small offices.
Family Medicine at Virginia Mason
Swedish Bainbridge Island
Peninsula Cancer Center
Bainbridge Physical Therapy
Bainbridge Pediatrics
Village Green Senior Apartments
Bainbridge Senior Living
Fir Acres Adult Family Home
Bainbridge Island Health and Rehabilitation
Golf Courses
Meadowmeer Golf and Country Club (Public)
Wing Point Golf and Country Club (Private)
Seattle "Country Club" (Private)
Equestrian Facilities
Bainbridge Island Saddle Club
Wacky Nut Farm
Cottingham Farm
Post Offices:
There is a full-service post office in Winslow, adjacent to Town & Country Market, and a smaller, branch office in Rolling Bay.
SCHOOLS
Public Schools
Bainbridge Island School District
Our schools care about kids and their well rounded development. Students that graduate from BISD routinely outperform their peer group in the post K-12 world. The district has 8 buildings around the island, most of them in Winslow. There are three K-4 schools, one in the north end, one in the south end and one at the central campus in town. Most kids go to the 5-6 intermediate school, then the 7-8 middle school (where I taught science for 10 years) and then to the 4-year Bainbridge High School. There is also an alternative program that spans K-12 in an all-inclusive building. This school system is so good it's hard to justify the cost of private school.
Private Schools
Hazel Creek Montessori School Hazel Creek maintains certified Montessori instructors, professional lifeguards and riding instructors, along with specialists in Spanish immersion, the arts and sciences. Hazel Creek is a certified Montessori preschool licensed by the state of Washington for before and after care.
Hyla Middle School An independent private school founded in 1993, Hyla teaches students in grade six, seven and eight and draws students from Bainbridge Island and surrounding communities.
The Island School Nestled in the woods of Bainbridge Island, The Island School is an independent kindergarten through fifth grade school educating students from Bainbridge Island and the Kitsap Peninsula.
Madrona School Offering 1st through 8th grade Waldorf education on Bainbridge Island. Students experience joyful, child-centered teaching that honors the human spirit and instills and nurtures a sense of wonder and creativity.
Montessori Country School Honoring each child's individuality, while offering an education that helps the child develop socially, emotionally and academically. Offering Montessori education on a beautiful, natural campus for more than 40 years.