What Kind of Waterfront Recreation Does Bainbridge Island Offer?
If there's one thing most people can agree on, it's that waterfront recreation on Bainbridge Island is part of life here.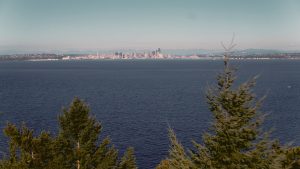 Beachcombing is the perfect way to soak in nature and let life's stresses fade away. The Kitsap Beach Naturalists can help make this an educational experience for you. Check out my page on public beach access to help you find a place to start your recreational adventure. Shorelines on Bainbridge Island provide the perfect opportunity to stroll the stretches of coastline and waste time with productive relaxation.
Freelance writer Bruce Barcott completed the 53-mile shoreline circumnavigation over 19 separate days when he moved to the island in 2009. He used the GPS on his iPhone (new in 2009!) to record his trip as a project for Backpacker Magazine. Make sure to check out Bruce's article in Backpacker Magazine and download his Google Earth file. And if you ever want to see the Native American petroglyphs in my neighborhood, let me know.
Surrounded by the glorious waters of the Puget Sound, Bainbridge is a mecca for boating, fishing, and exploring. Additionally, outdoor enthusiasts here enjoy a myriad of activities that are just part of life on an island. For example,
Boating: Obviously, both power boats and sailboats are a part of the lifestyle when living on an island. Personal watercraft can be kept at a private dock or a marina in Eagle Harbor or Port Madison marina, tied to a private buoy that is registered to and anchored a few hundred feet off one's property, in a private boathouse, or launched at a private or public boat launch. The Bainbridge Island Metropolitan Parks and Recreation District offers sailing classes in Port Madison for people seeking to learn how to sail. In fact, I am currently working on behalf of the park district to help them purchase a sailing facility from the Seattle Yacht Club.
Sea kayaking/rowing/paddleboarding: for a slower and quieter approach to making waves, these personal watercrafts are a perfect way to see any stretch of beach. Whether seeking fast-moving currents for an adrenaline rush or the calm water of one of the island's many harbors, paddlers of any ability will be able to find a stretch of water to match their needs. Back of Beyond Outfitters in Eagle Harbor offers boat rentals, guided trips and classes, and has retail sales.
Swimming: The waters of Puget Sound average between 45] and 55], prohibiting most people from making a habit of swimming at the beach. However, kids and some native northwesterners are known to take a dip in the heat of summer, especially if it includes giant rope swings or jumping off a dock- private or at the public dock on Hidden Cove or the community dock on Crystal Springs. And at noon on New Year's Day, you will find a Polar Bear Club taking a dip near Lynwood Center.
Fishing: Fly fishers can throw a line year-round for native Searun Cutthroat Trout (catch-and-release only). During select times of the year, both fly and gear fishers can cast for salmon. Though mostly silvers are caught from shore, a few anglers have stories about hooking into a king from the beach. Though most salmon caught on the island migrate out to sea and return at four years old, resident Blackmouth salmon (non-sea going king salmon) can be hooked here as well. My favorite "honey hole" sits right on the property line between two homes and the neighbors give a friendly wave when they see me casting. The Bainbridge Island Fly Fishers can help you get plugged in with the locals.
Crabbing: A sure sign of life on Bainbridge Island is to have a crab feast in the summer with meat that you or a friend pulled out of the water that day. Some waterfront owners can paddle out from their beach and drop pots to soak for a few hours or days, and many known spots produce good results consistently.
Shellfish: It's not uncommon for a waterfront owner to have a shellfish garden on their beach. My wife and I know a family that has a saltwater lagoon filled with bags growing oysters and clams. Learn more about this hobby from the Puget Sound Restoration Fund here.
Biking: Yes, on the beach. With the advent of fat bikes and their 4" wide tires that only need 5 psi to manage terrain previously deemed unsuitable, bikers can now take to the beaches and cover quite a few miles in a fraction of the time it would take to walk. If you don't believe me, watch this video the Kitsap Sun published of a local couple who circumnavigated the island by bike.
Holiday Shows: Eagle Harbor has a fireworks show most years on Fourth of July. The event is funded by private citizens, so every year is hit or miss. To state the obvious, homes in Eagle Harbor have a front row seat to the action. During the Christmas season, local boating clubs have parades in both Eagle Harbor and through Agate Passage.
*NOTE: The recreational activities described on this page are limited to the waterfront / beach aspect of life here. There are many more ways to stay active when one ventures inland.