Why Bainbridge Island is the Best Place to Retire in Washington
Bainbridge Island, with its excellent schools, abundant parks, vibrant town centers and easy commute to Seattle, is one of the best places to raise kids in Washington state. What Baby Boomers have discovered is its potential as the best place to retire in Washington given the low taxes, high safety ratings, access to health care and abundant recreation and cultural amenities.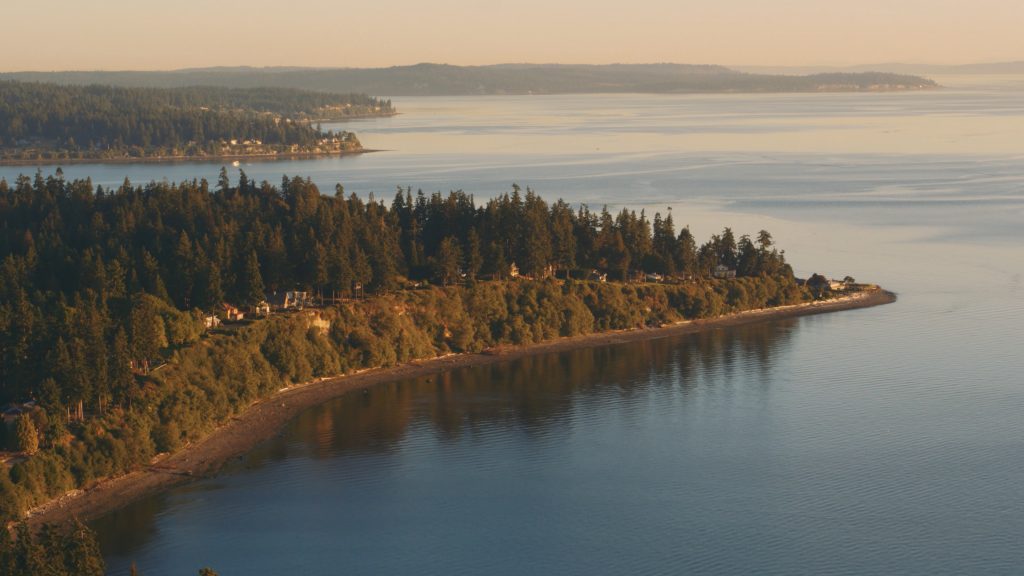 Vogue Magazine called Bainbridge "The Nantucket of the Pacific Northwest." Forbes named Seattle the third best scenic place to retire in 2017. Money Magazine ranked "the island" #2 in its 2005 list of Best Places to Live. Business View Magazine just wrote a focus piece on the island's growth management plan as part of a series on American cities with best practices.
US News & World Report identified ten considerations for deciding where to retire. Bainbridge Island fits these criteria very well as a best place to retire.
Safety
Safewise.com ranked Bainbridge Island as one of the best cities for public safety in the state of Washington with a Violent Crime rate of just 0.43 per 1,000. A vast majority of reported crimes are against property, so they are non-violent. One of the best tips for Islanders to keep their possessions safe is, believe it or not, lock the doors. My neighborhood has an email group of about 150 people, and the only reported burglaries are when doors are left unlocked. Bainbridge rarely has breaking before entering.
Health Care
US News & World Report ranked Washington the #2 state for health care.
On Bainbridge Island, Winslow is full of high-quality medical care for primary, dental, vision and holistic care. Specialists from the large networks have specific days they visit the island at facilities in Winslow such as Virginia Mason Bainbridge and Swedish Primary Care. Extended and long-term care options also exist for seniors who are no longer able to live at home. Urgent care on the island is available through Harrison/CHI Franciscan Health, and they have an affiliated ER located in Silverdale, WA.
A cancer treatment center is located just off the island in Poulsbo, WA.
Seattle has some of the best medical care in the world and is just a 35-minute ferry ride away. There are several helicopter landing sites around the island to transport someone to a Seattle facility in minutes during an emergency.
Low State Taxes
The is no state income tax in Washington State- it's just one of a few states with no personal income tax on any form of income. This means all your retirement income, be it Social Security, Pensions & IRA withdrawal, etc. are free from state income tax. Property taxes in Washington State are also lower than average, about 1% of assessed value here on Bainbridge Island. If saving money on taxes is an important consideration of your retirement planning, Washington is certainly one of the best states to retire.
Cost of Living
The cost of housing in Seattle is approaching some of the highest levels in the nation, and the market is currently booming faster than any other major city. People moving from expensive places like California and New York have always described our housing market as cheap. Prices for local medical care, food and clothing tend to be above the national average. On the flip side, the abundance of rain and snowmelt feeding local rivers, hydroelectric power (dams) produces electricity for about as cheap as anywhere in the country.
My monthly infographic, The Bainbridge Market Report, shares the trends and insights to the cost of living on the island.
As the Bainbridge Island waterfront neighborhood expert, I invite you to get familiar with my 10 waterfront neighborhoods to see if these shorelines would suit your retirement lifestyle.
To see what home styles and prices are like on Bainbridge Island, use the pre-set searches at my Bainbridge Listings page.
Pacific Northwest Climate & Weather
Bainbridge Island's climate is described by my friend James, the City of Seattle's meteorologist and climatologist, as Mediterranean according to the Koppen-Geiger Climate Classification System. This type of region is known for its cool and dry summer climates, balanced out by wet yet mild winters. It's a climate similar to Chile, South Africa, and Australia. I've sold a waterfront home to a woman who spent her first 16 years in England, and this island reminds her of her isle.
Heat waves (days into the 90's) are short-lived, and frigid arctic blasts that result in the snow in the Puget Lowlands are rare. In the summer months, the average high temperature is in the 70's and the winter it's in the 40's. The summers experience very little rainfall, so the long days are glorious, while the winter sees a bulk of the year's annual precipitation.
The dry season typically begins shortly after the spring equinox and fully arrives not long after the summer solstice. Bainbridge Island is among the sunniest and driest locations in North America July through September. Summer heat waves are not common and seldom last longer than a few days.
The wet season begins in October, peaks in November, and gradually abates over the course of winter. While rainy days are plentiful during the wet season, actual rainfall amounts are low relative to more humid locations. Bainbridge only receives about 35 inches annually. Gusty winds are also frequent during winter, but snow and subfreezing temperatures are rare.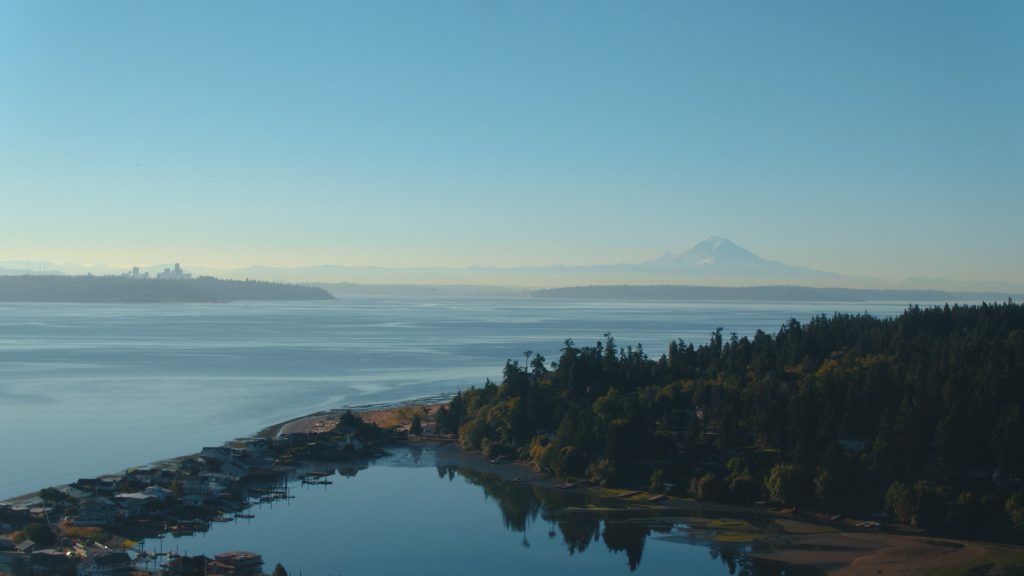 Cultural Amenities in nearby Seattle
In addition to what Bainbridge has to offer (see amenities below), vibrant and fast-growing Seattle is just a 35-minute ferry ride away. The Emerald City offers everything from professional sports venues within an easy walking distance of the downtown ferry terminal (Seattle Sounders, Seattle Seahawks, Seattle Mariners) to top-notch opera, ballet, and theater companies, symphonies, and museums of every description. If exceptional dining, microbrews, and wine are of interest, you'll have plenty to explore. I'm not even going to attempt and compress all the activities of this world-class city into a link or two.
Proximity to airport
SEA (Seattle-Tacoma International Airport) is less than 2 hours away from the island. It's not uncommon to see a friend on the boat on their way to the airport for a work trip or a vacation. Ferry time is just a part of living on Bainbridge Island and is the first leg of a journey, just before the options Seattle has for getting to the airport after walking off the boat. There are several hired car options, a light rail and of course, UBER and Lyft. My wife and I always find a Groupon for a discount at a parking lot near SEA and drive on the ferry to the airport for the sake of convenience. No matter your preference and length of trip, your ground transportation costs are relatively negligible, and time is a sunk cost that is a trade-off for living in paradise.
Demographics
Bainbridge Island's demographics are predominantly white and affluent. The island's ~23,000 residents are 88% Caucasian, and 55% of households have an income above $100,000. The average age is 45. In 2013, 20% of the island was aged 65 and older, and by 2023 that number is expected to be 30%.
Staying Healthy and Active
Island Fitness, the Bainbridge Athletic Club, CrossFit Outcome, Island Climbing Gym and Bainbridge Yoga House are the main private health and fitness facilities on the island. There is both a public and private golf course. The Bainbridge Island Metro Park and Recreation District offers a host of programs in their catalog, as does BARN (Bainbridge Artisan Resource Network). Click here to learn about volunteer opportunities. It is nearly impossible not to find your type of community on the island.
Recreation
Please visit my page dedicated to recreation to find out about boating, kayaking, paddleboarding, fishing, crabbing or bike riding on the beach.
Politics
Bainbridge Island leans left as evidenced by most island precincts reporting over 80% of voters casting a ballot for the Democratic candidate in the 2016 Presidential Election.
Amenities
Additionally to the above, Bainbridge Island offers many amenities to its residents and could suit your retirement very well. Feel free to contact me with questions and I'll help connect you to the right resources to help confirm that this place is a great fit for you.