Real Estate Insight: ​Just What Does PENDING Mean?
If you're even just a casual online home shopper, you should be able to relate to this: someone sees the perfect home online and the triggered emotions are so strong, they can imagine living in it for the next five to ten years. They check daily to see its status and suddenly- without warning- it's "gone PENDING". They feel sick to their stomach with disappointment that the home is sold, never again to be seen on the open market.
Or is it?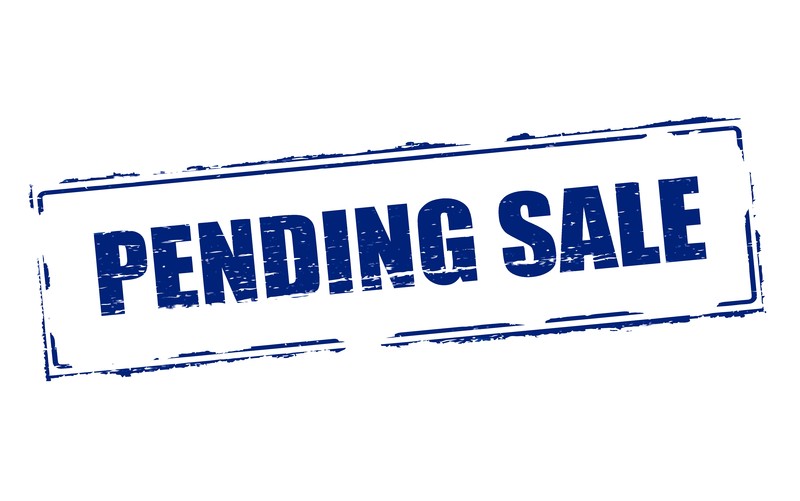 I just helped clients buy a home that had two failed sales in the four months prior to them making an offer. And I owned a home that fell out of contract before we came along a month later to make the purchase.
Any seasoned REALTOR® will tell you that once the buyer and seller reach a mutual agreement, or become 'signed around' into an enforceable contract, that's when the real work begins. Consummation of a contract sets a litany of timelines and potential story lines in place as the transaction makes its way to closing.
Hopefully.
This is where real estate agents earn their living: making every effort to help buyer and seller close the transaction. One of the first agents I did a deal with told me the process was like delivering a baby: "everyone wants the baby to come healthy and we all have to play our part on the team to ensure successful delivery." It's a very accurate metaphor, I've quickly learned.
Until the escrow officer delivers news of the new owner being recorded on the deed held at the county office, no deal is ever considered done. The storyline may end with a terminated agreement and the property back on the market, sometimes just days before closing after a months-long time in escrow. And sometimes, buyer and seller are left arguing over the disbursement of earnest money.
So What Does PENDING Mean?
When the seller's agent changes the status of a property listed in the Multiple Listing Service, they have a number of options to select based on the agreed upon terms of sale. And the difference between a property's true status and what the third party portal tells consumers is often a state of discrepancy.
This can leave the consumer confused as they don't know the true status of a property and whether they have reason to inquire further. Again, a seasoned buyer's agent will contact a listing agent to see how the transaction is going and if there is desire for a backup offer to be submitted.
For example, a client of mine recently inquired about a condo on Queen Anne Hill. Though his portal of choice stated the property was Active (not under contract and seeking a buyer), my inquiry found it had been under contract for 3 weeks. When I followed up, the seller's agent informed me the escrow docs were just signed and closing was certain. My client was saddened because in his mind, he had already entertained guests.
But I digress, as I set out to write about the different possible story lines behind a PENDING status on the online portals, not the potential inaccuracy of that information.
POSSIBLE PROPERTY STATUS
ACTIVE (A)
This property is listed for sale in the Multiple Listing Service with a real estate office and a representative agent is seeking to facilitate the sale of seller's property.
PENDING (P)
The fundamental meaning of Pending is the period where the funds being used to purchase the property are in process of being released to the seller. This timeline will vary depending on the source of the funds: whether it's a local or major bank moving a buyer's file across their underwriters' desks (~45 days), a 1031-Exchange Facilitator conducting the IRS-required oversight to move pre-tax funds from one investment property to a 'like-kind' one (180 days or less), a Trust Account releasing funds, or some other source. Once closing docs are signed and the new owner is recorded on the deed at the county office, then escrow closes the transaction file. SOLD! (P>S)
PENDING INSPECTION (PI)
The Inspection Contingency Addendum to the Purchase and Sale Agreement states the contract "is conditioned on Buyer's subjective satisfaction with inspections and improvements of the property." Buyers are allowed to bring in any professional consultant they wish- from home and septic inspectors, to lead and asbestos abatement contractors, to an arborist or geotechnical engineer, architect, general contractor, land use planner or their friends and family to conduct a "Neighborhood Review". The list goes on.
As defined in the contract, the buyer has a specific number of days to complete all their inspections and respond to the seller. The buyer can accept the conditions as it is, reject it and terminate the contract while taking their earnest money with them, or negotiate repairs. This is where having a diligent and responsive agent is crucial- if they miss your deadline, you waive your right to terminate based on subjective reasons and are stuck in the contract to buy a home you may no longer want.
This round of negotiations gives plenty of opportunity for deals to go awry. One complication is when buyer's lender imposes certain requirements that the seller must adhere to if they wish to close the transaction. If buyer and seller cannot agree to terms surrounding repairs or modifications, then the status may be changed back to Active (PI>A), and all parties are left to start over. If these negotiations are successful, the status is changed to Pending (PI>P).
CONTINGENT (CT)
The Buyer's Sale of Property Addendum states the "agreement is contingent on Buyer selling Buyer's property" by a date which may be 45 days from mutual acceptance. The buyer has 5 business days to have their house listed for sale in the Multiple Listing Service. If the buyer's home does not sell within the allotted time, the buyer has no obligation to purchase the seller's home and walks away with their earnest money. The status would be changed from Contingent back to Active (CT>A).
This type of transaction is disadvantageous to the seller because their fate in selling their home is sealed by the buyer's ability to sell theirs. Now the seller has to worry about the buyer's buyer performing on that contract. The only saving grace is the seller can attempt to 'bump' the buyer out of contract if they receive a more favorable offer.
All parties have protections in place in this scenario, as it forces the hand of Buyer #1 to remove this contingency in order to stay in the contract. This leaves them having to sell their home quickly, and as such, without much negotiating power in that process. If they don't agree to remove the contingency, they are bumped from the agreement and take their earnest money with them while Buyer #2 enters the contract to purchase the property. If Buyer #1 stays in the contract, the status is changed to Pending (CT>P), whereas if Buyer #2 becomes the official buyer, then the status is changed to whatever is dictated by that new contract.
PENDING BACKUP (PB)
The most important role of a seller's agent is to ensure the owner enters a contract with a buyer who is certain to close the transaction. Buyer financing can be a minefield, or it can be smooth sailing. Depending on the circumstances, a seller may be inclined to accept an offer, but wants to advertise to agents that they are seeking Buyer #2 to bring an offer with a better chance of closing than Buyer #1. Upon receiving a better offer, and similar to the home sale contingency, the seller can perform the modern day equivalent of 'firing across the bow' and attempt to bump Buyer #1.
PENDING FEASABILITY (PF)
The Feasibility Addendum states that "buyer shall verify within [a negotiable number of days] the suitability of property for buyer's intended purposes." This time frame can be as long as 60 or 90 days depending on the property.
If the property for sale is raw land, then think of this as the home inspection contingency version of subjective satisfaction where a buyer will spend time evaluating their ability to permit and build the desired structure within their financial limits. For a piece of commercial real estate, this period will be for the investor to ensure they can modify the property according to the needs of their business. This addendum can also be submitted with a piece of residential real estate as a buyer may want to do due diligence to ensure their desired modifications- such as an addition- can be performed on the home.
ALWAYS LEARNING
REALTOR® stories of contracts moving through escrow would fill hundreds of libraries. One thing I deeply enjoy about this career is no two transactions are alike and I get to problem solve my way through each one, then come out with a great story on the other end.
To learn the true status of any property you find yourself interested in, contact me at [email protected] or 206.399.3641.
Copyright 2016